Do you know that home improvement projects have soared during the pandemic? Amid the global health crisis, it's a good idea to transform your house for aesthetics, functionality, safety, and comfort. 
But this time around, consider turning your house into a luxury home. When it comes to this, you can either have a full or a partial house renovation. You can undertake a few home updates, whether for your kitchen, bathroom, or living space.
That said, here's how to turn our house into a luxury home:
1. Kitchen Overhaul
The first place to start is your kitchen, as it's the heart of your home. Not only is it for cooking and food preparation, but it is also for healthy eating and family bonding. For a luxury kitchen, the focus is not only on aesthetics and functionality. Be sure to make safety a top priority.
That said, consider having open shelving, putting a kitchen island, installing a backsplash, updating your countertops, and investing in smart appliances.
2. Interior Painting
Your house paint can determine the overall look and appearance of your home. Not only does it affect your home aesthetics, but it also sets the mood of the whole household. If your house interior looks old and outdated, it's time to give it a facelift.
However, be highly critical in selecting the best color scheme. Ultimately, it's best to work with highly reputable professional painters so that they can transform your home.
3. Bathroom Remodel
Bathrooms are the most used and abused in a house. Imagine how dull and even filthy they can become over time. As such, consider kicking your bathrooms up a notch; have a bathroom remodeling! This time around, opt for modern bathrooms.
One perfect example is to transform it into a Zen room. Install a Jacuzzi hot tub, embellish it with top-notch decors, and invest in updated plumbing fixtures. Ultimately, a bathroom is no longer just a place for bathing and eliminating bodily wastes; it is also a room for peace and relaxation.
4. Upholstery Update
For a luxury home, it's time to update your upholstery. Proper upholstery doesn't only make your house highly functional, but it also makes your house look expensive. The trick here is to invest in quality and visually appealing fabric covers and furnishings obtained from highly reliable sources.
That said, give your furniture pieces a new look. The same is true for your bedrooms with new pillows, blankets, and mattresses.
5. House Planting
Indoor planting has become increasingly popular among many households, especially during this pandemic. We only think of shrubs and blooms as a way to embellish your house. However, these indoor plants can provide your family with a handful of benefits.
For one, they can be beneficial for physical health and therapeutic for mental well-being. Also, they can purify your home and ensure quality air circulation. Lastly, they can make your home look more luxurious.
6. Indoor Lighting
Do you know that lighting plays a crucial part in a house? Same with the house paint, it sets the household mood and creates the ideal ambiance. There are three types of lighting for your house. First, integrate ambient lighting into your home for general illumination. Second, install light fixtures for task lighting, whether in your kitchen for cooking or dedicated space for studying. Lastly, use accent lighting to highlight some spots in your house.
That said, it's best to work with lighting professionals who can incorporate all these three lighting types into your house for a luxury home.
7. Smart Home Device Installation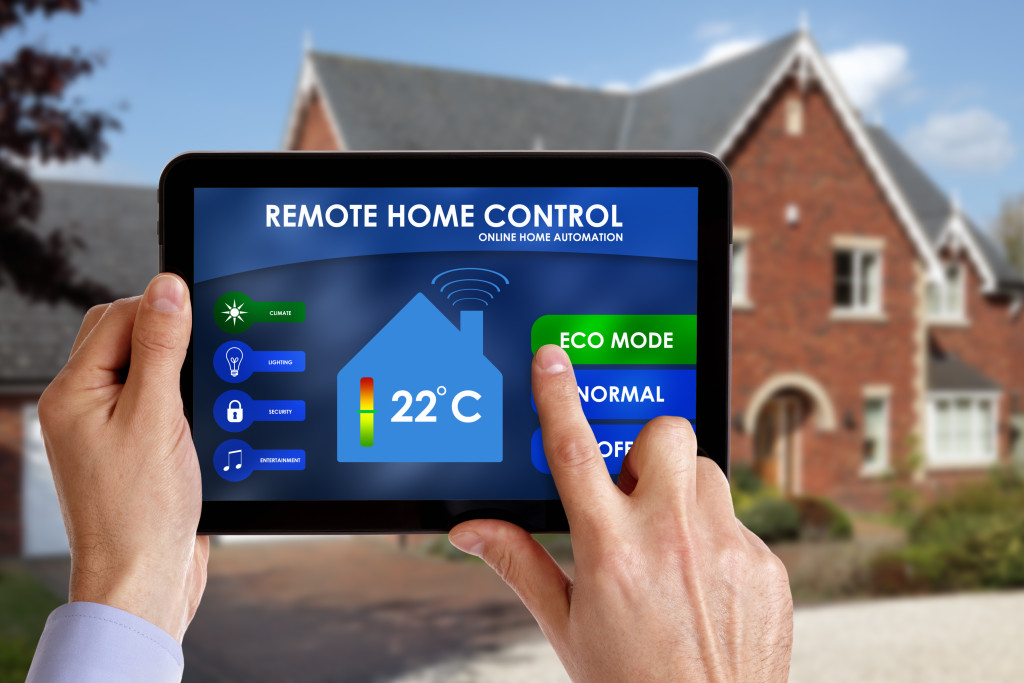 If you want to turn your house into a luxury home, the answer is to invest in high-end home appliances and luxurious touches. It's time to toss out your old and outdated appliances, whether TV, desktop, or other electronic devices.
For instance, consider investing in large Smart TV and speakers and turning your living space into a movie house. You can also opt for modern and advanced systems for overall efficiency and safety. The Home Advisor's 2020 State of Home Spending report includes the new smart home device installation on the list.
At this point, you now know what it takes to turn your house into a luxury home. Be sure to consider one or some of the home remodeling projects mentioned above. Also, start with a home vision, set proper preparation, ensure your budget, and hire professional contractors. With all these in mind, you can make your dream house (a luxury home) come true!