Marketing is a crucial element of all small businesses, whether it's a startup or one that's been existing for a few years. It is needed to attract customers, create revenue, and keep a business running. With the right marketing strategies, companies can fulfill their branding initiatives and eventually achieve business goals.
To successfully execute marketing strategies, you should have an efficient marketing plan. When you're developing it, your marketing team must consider which strategies will work best according to your company's needs. They should also take a look at marketing initiatives and mediums used by their competitors. From these considerations, marketing teams can determine where to
start.
On the other hand, while the expertise of a marketing team is much-needed support to help businesses attain their goals, business owners should also understand current marketing trends. In the existing marketing space, online presence is essential in allowing companies to reach their audience. Considering the pandemic has changed the way consumers purchase products and avail services, businesses need to reach their prospective clients online. Knowing this, you should apply marketing strategies that will work best with your customer's online activities.
This article aims to help you learn more about current marketing strategies that can work well in an online setting. Read more below to find out what these online marketing strategies are.
Set a Goal and a Budget
Your company's marketing goals have a direct impact on your business goals. That's why before you perform any marketing strategies, you need to determine what your marketing goals are. This can be done in stages. For example, you'll need to set who your target market is for the first stage of your marketing plan. Who are they? How old are they? Are they mostly female or male? Where do they live? What are their jobs and educational attainment? What is their standard of living? The more personal your description is, the more targeted your marketing effort will be.
After determining your marketing goals, you should be able to estimate a budget for your marketing efforts. Consider this goal and budget setting a work in progress. You may have a budget on paper today, but this can change as you develop the rest of your marketing plan. You will perform analysis later on to help you know which marketing efforts will work best, thus demanding change from your budget plan.
Know Your Customers
From the outset, you already know who your target market is. You already know who your products and services are catering for. You already know who to sell to. However, as you execute the first stages of your marketing strategy, you'll soon notice a niche in your audience.
For example, if your target market is both genders, you'll soon notice that your products and services attract more men. According to HubSpot, this is called a buyer persona, and every business will have many. Use this information as a basis for other marketing strategies that you should apply to your business.
Establish Your Brand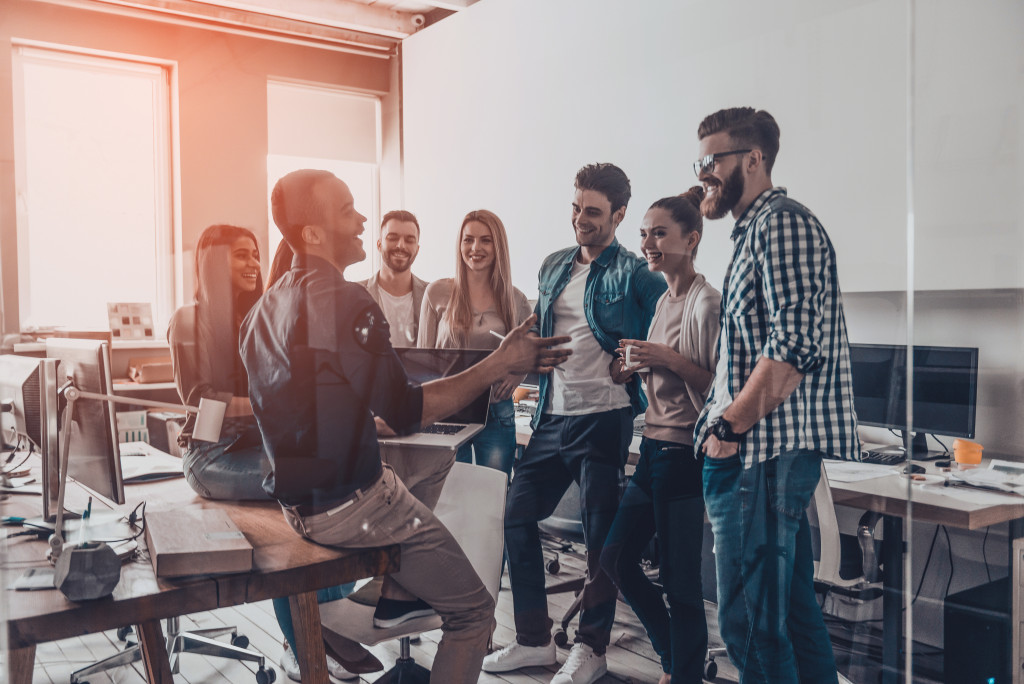 With set marketing goals, target market, and budget, you can now start your efforts in establishing your brand. This is when you'll let your marketing efforts inform the public, especially your target market,
about your products and services. This is when you develop and establish who you are as a company. Here is where you'll create your identity.
Establishing a brand will involve developing a name, logo, colors, and other aesthetics for your products or services. More than that, however, it's about building a reputation.
When building your reputation, it's essential to associate your business with related products, activities, and companies. For example, if you provide fire safety services for other companies, you must use integrated hollow metal doors in your office or workplace. This shows your dedication to your craft, thus improving your reputation as a fire safety provider.
Email Customers
One of the first marketing strategies you'll use is email marketing. It may sound archaic, but it remains one of the most effective marketing strategies still used today. It's easy to execute and can reach a broader market. And with today's technology, email marketing can be automated at a minimal cost.
Forbes magazine suggests segmenting your target market so that you can customize the content of your emails. This way, you can create messages that are relevant to your target audience.
Don't Let Budget Constraints Stop You
To increase your brand's reputation and awareness, remember these strategies that can help your business grow:
Providing credible materials for content marketing can establish your expertise in your industry. Championing in one or two social media platforms can help you reach and connect with your target audience in real-time. And if you do SEO marketing correctly, you'll get more traffic to your website.
With these strategies in mind, you can now understand that even though small businesses have limited budgets and resources, they can still leverage marketing strategies to help their businesses grow.