Nowadays, due to the pandemic, businesses are slowly shifting from a physical to a digital one. The majority of retail platforms now offer their commodities and services on the web. The focus of marketing now is on the world wide web. If you're an aspiring entrepreneur who wants to start a business, you should be ready to make a name for your endeavor. The most vital aspect is to get your identifiers available, which is your brand logo.
The logo of your small business is what defines you from the rest of the company. The majority of the small companies think that their logo is one the least of their priority, but it is not. A brand logo is a powerful tool to imprint your business to the minds of your customers.
Getting Started
There are many factors to consider when creating a logo for your business. The most important of which include the following:
Legibility
The logo that you should have must be legible to the eyes of every potential customer. It would be best if you adequately wrote the name of your business or company. A simple font is a plus, but if you dare to go to a fancier font, you should not sacrifice the legibility of the design.
When you blend several logo typefaces, your typography can become effective. You can also think of the dimension of the text. It can include a brand name and a smaller subtext for the tagline. Although not necessary, some of the best product lines use this strategy to make their brand memorable.
Size
The size of the logo depends on where you will use it. The majority of the businesses have various versions of their logo that suits the platform it's supposed to be. A fantastic logo must also appeal at any scale and in each location where you will use it.
Color
You should also consider the colors of the brand logo and texts because some connotations are associated with your chosen colors. It will also have a massive impact on the legibility of the brand name. You should also consider the lighting on the front of your business if it has lights or natural sunlight shining onto it.
Design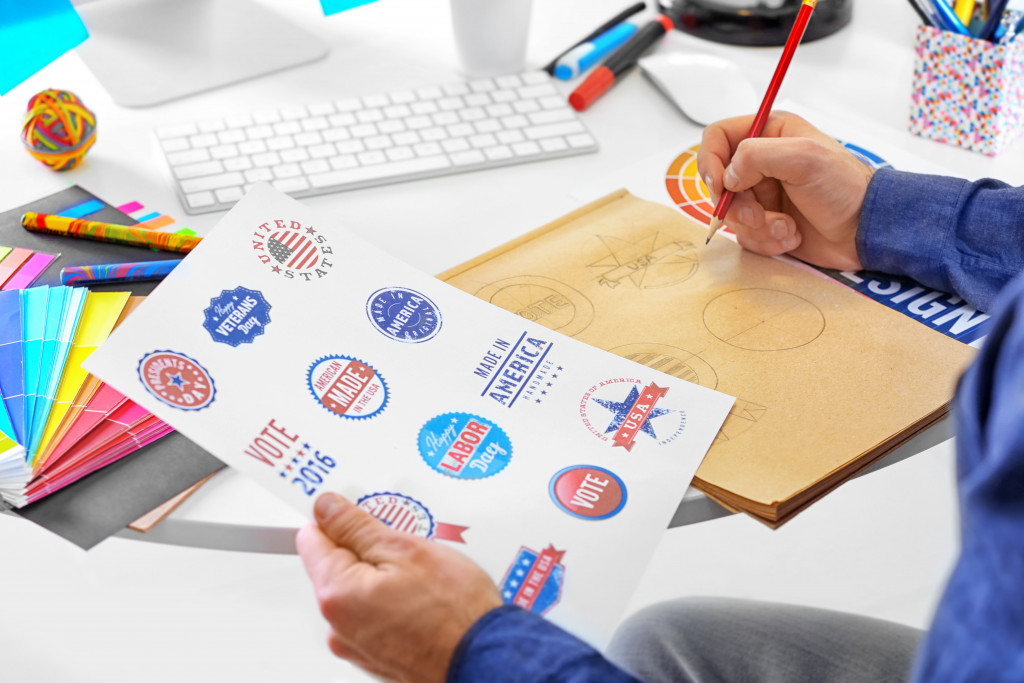 The design of the brand logo depends on what service you give or the commodities you sell. It can also be a thing that has meaning to your success.
An excellent logo is instantly identifiable, expresses your brand's message, and distinguishes you. It should be professional and blends well with the brand's identity.
After identifying all the components for your logo, you must ensure that they all function together. You want to match them in a manner that is harmonic to get the desired feeling.
Application
Your company's logo demands and expectations will significantly change whether you sell children's apparel and want an embroidered emblem into fabric versus creating sophisticated high-end labels with an ornate mark or a high-tech software that resides on people's devices.
So, when developing your logo, don't forget to look at the bigger picture and contemplate the overall view. It's not always about personal preference; rather, and more about what works the best for your business.
Feedback
It might be challenging to evaluate your logo choices, so seek opinions from friends, prospective customers, and coworkers to assist you in making a selection. Businesses can poll their audience about their logo by placing advertisements on trucks and other vehicles that roam around their business area. If you don't have enough budget on hand, you can opt for rental services. These cars have a buy-here-pay-here GPS, so make sure to settle your accounts to avoid retrieval.
Copyright
Copyright or trademarks are relevant. It would be best if you made the brand logo be registered to prevent other companies from stealing it from you. There are several steps to apply for the copyright of your logo. If you are starting your business, it is not necessary to register it right away. But if you see that your business starts booming, some individuals will be jealous of what you achieve so that they can steal that logo from you. You better prevent that event from happening by keeping your tabs in check.
A logo is an essential part of the business. It will serve as the identity of your company that should ring a bell to your customers whenever they see it. Look at the famous brand names. They are firm with their logo. Even some do not have any text on them, yet the majority of people can identify it. Customers should all be reminded about your logo and recall it at the back of their minds.