The end of the year is fast approaching, and that means it's time to start thinking about your company's year-end party. This is an opportunity to show your employees how much you appreciate their hard work and dedication over the past 12 months. But putting together a party that lives up to everyone's expectations can be daunting. To help you out, we've put together a list of tips on planning a fun and thrilling year-end party for your employees.
Pick a Theme
One of the first things you'll need to do when planning your party is to decide on a theme. The sky's the limit here, so get creative! A few popular themes include:
Hollywood glamour: This is a classic party theme that never goes out of style. If you go with this option, have plenty of sparkly decorations and glitzy party favors.
Masquerade ball: A masquerade ball is always a hit! Guests can dress in their finest clothes and wear masks to conceal their identities. This adds an element of mystery and intrigue to the party.
Casino night: This is a fun way to let your employees let loose and have a good time. Set up casino-style games like blackjack and roulette, and give out prizes to the winners.
Whatever theme you choose, make sure it's something that will appeal to your employees and get them excited about the party.
Find the Right Venue
Once you've decided on a theme, it's time to start looking for a venue that can bring your vision to life. If you're planning a smaller, intimate gathering, renting out a private room at a restaurant or bar might be the way to go. Consider renting out a banquet hall or event space for something more elaborate.
Create a Guest List
Now it's time to start thinking about who you want to invite to your party. In addition to your employees, you may also like to invite their spouses or significant others, as well as other VIPs such as clients or customers. Once you have a good idea of how many people will be attending, you can start working on finding the perfect venue (see step 2 above).
Send Out Invitations
Once you have your guest list finalized, it's time to send out invitations. Of course, you'll want to include all the standard information, like the event's date, time, and location. But don't forget to also include any special instructions (e.g., "Formal attire required" or "Please RSVP by X date"). Printed invitations are always lovely, but if you're looking to save some money, e-invitations are just as effective (and eco-friendly!).
Plan Some Entertaining Activities
No party is complete without some fun and engaging activities for your guests. Depending on your budget and venue size, there are all sorts of options available to you. One great way to entertain everyone at the party is by organizing games where guests can win prizes. In this case, you don't have to spend so much on game materials or equipment because you can always go for party needs rentals. Often, these companies offer party games for rent as well. Another option is to hire a band or DJ to provide some live music entertainment. If you want to keep things more low-key, you can always have a few smaller activities, like a photo booth or a DIY crafts table around the venue.
Don't Forget the Food and Drinks!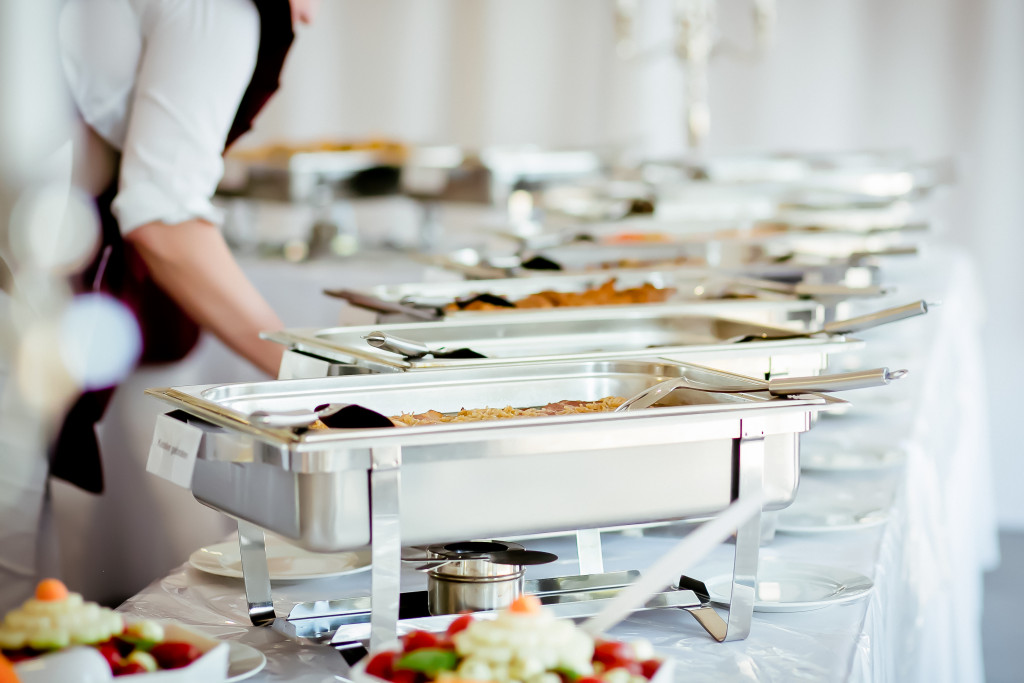 Of course, no party would be complete without food! When it comes to feeding your guests, there are many options available—from simple finger foods and appetizers to full buffet spreads or even sit-down dinners. Just be sure to take into account any dietary restrictions or food allergies that your guests may have when making your menu selections. And if you really want to impress your guests, consider hiring a professional catering company.
Make It Memorable with Some Unique Party Favors
Sending your guests home with some unique party favors is a great way to ensure that they remember your event long after it's over…not to mention, it also doubles as a marketing opportunity! A few ideas for what to include in your favors:
Customized mugs or glasses
Keychains ornaments
Tote bags
T-shirts
Discount Coupons
Other than that, just use your imagination and Have Fun! After all, that's what parties are all about!
Final thoughts
Planning an unforgettable year-end party for your employees doesn't have to be difficult—just follow the tips listed above and let your creativity shine through! With a little bit of effort (and maybe even a little bit of help from professional planners), you can easily throw together an event that everyone will be talking about for weeks even months, afterward!