Corporate events are a fantastic way to build morale, reward your team, and improve retention. However, they can be expensive, reaching around $8,000 above for full-day events and even a lot more if you don't prepare them properly. To ensure your event is successful, there are a few essentials you'll need to consider. From the venue to the food and drink, read on for the five things you'll need to consider to ensure your company event is a success!
The Venue
One of the most important aspects of any company event is the venue. After all, it's the first thing your guests will see when they arrive—so you want to ensure it's impressive! If you're working with a tight budget, consider renting a local community center or church hall.
If money isn't an issue, then you might want to look into booking a ballroom at a luxurious hotel or resort. Be sure to book well in advance, no matter what venue you choose, so you're not stuck scrambling at the last minute.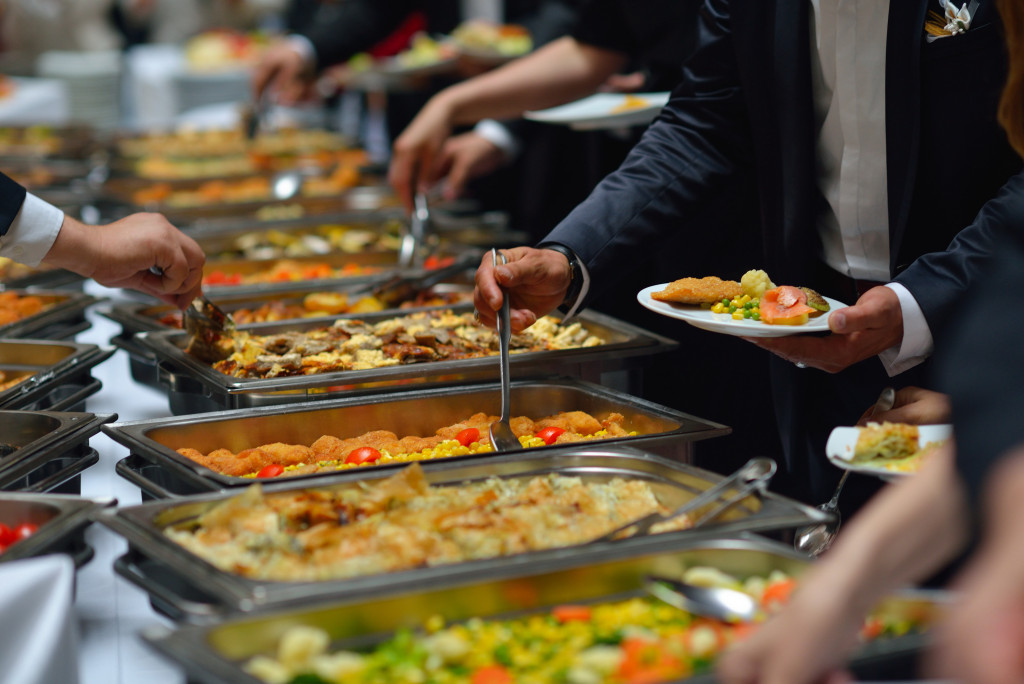 Food and Drink
No event is complete without food and drink! When it comes to catering, you'll want to make sure there's something for everyone. This means offering vegetarian and non-vegetarian options and providing a selection of both alcoholic and non-alcoholic beverages. Here are also some great ideas that'll help you save money on food and drinks:
Pot-luck style
Ask each guest to bring a dish to share. Not only is this cost-effective, but it's also a great way to get everyone involved in the event. It's also one of the best ways to showcase some hidden cooks in your company.
BYOB
Allow guests to bring their alcohol. This is a great way to save on costs and ensure everyone can access their preferred drinks. However, you should limit the amount each person can bring to avoid having too much liquor left over.
Hire a Bartender
If you want to serve alcohol but don't want to deal with the hassle of BYOB, then consider hiring a bartender. They can not only make sure everyone is served responsibly, but they can also create some fun and festive mixed drinks for your guests.
Drink Tickets
If you're worried about alcohol consumption, then consider using drink tickets. This way, you can limit the number of drinks each person can have, ensuring everyone stays safe and responsible.
Appetizers
Consider serving appetizers instead of a full meal if you want to save on costs. This is a great way to keep your guests fed without breaking the bank. Plus, it's a great way to try out some new and creative recipes!
Entertainment
Entertainment is another essential element of any company event. After all, what's a party without some games or music? Depending on your budget, you might want to hire a DJ or live band to keep everyone entertained throughout the night. You could also set up some fun party games or hire a comedian or magician to perform for your guests. The sky's the limit for entertainment—so get creative and have fun!
Decorations
Decorations are essential for setting the tone of your event and making it feel festive and unique. But you don't need to go overboard—a few simple streamers and balloons will do the trick! If you're feeling crafty, you could even DIY some decorations yourself. Here are some easy-to-do decorations for your event:
Balloons
Balloons are a classic decoration for any party—and they're easy to do yourself! All you need is some helium and a few different colors of balloons.
Streamers
Streamers are another cheap and easy decoration you can DIY. All you need is some crepe paper and tape—then you're good to go!
Centerpieces
If you want to add a touch of class to your event, then consider making some simple centerpieces. All you need is a vase, some flowers, and creativity.
Having some lovely decorations at your party can make a lot of difference in the ambiance and mood of your employees.
Waste Management
Last but not least, don't forget about your waste management. You have various options when it comes to this.
Rental Dumpsters
Getting some dumpsters is essential for any corporate event. Renting a sizable roll-off dumpster can help ensure a place for all the trash your event generates. This is especially important if you're expecting a large number of guests.
Segregate Trash
You should also consider segregating your trash. This means having different bins for recyclable and non-recyclable materials. This will help you reduce your environmental impact and save on landfill costs.
Hire a Cleaning Service
If you want to avoid the hassle of dealing with trash, consider hiring a cleaning service. They can take care of your dirty work, so you can focus on enjoying your event.
Corporate events are a great way to boost morale among your team members—but only if they're done right! Considering the five essentials listed above, you can be sure your next company event will be a resounding success!