Amid the inflation worries and vast uncertainty soaring through global markets, the global economy has managed to bounce back from last year's shortfalls, made significant gains in recent months, and sustained a positive sentiment toward overall recovery. And at the heart of this bullish momentum driving investors and companies from out of the woodwork and analyzing their next big move are the emerging tech trends currently shaping the future of the business world, with no signs of stopping anytime soon.
As a result, there has been no better opportune moment than today for small businesses and medium-sized enterprises to leverage the ongoing innovation and development of new technologies to boost their growth and level the playing field among the most prominent companies. And to put things into context and help establish the roadmap we are facing ahead of us, we'll be going over the critical fundamentals leading the charge for this catalyst of change and just how a small business owner can stand to benefit from what's to come next.
We Are At The Brink Of Global Digital Transformation
Unless you've been living under a rock for the past few months, then it will be no surprise to hear that the world is at the brink of a global scale digital transformation. And while it may be hard to believe at first, the digital economy will soon rival the traditional investment markets we've come to learn in the present day. Namely, the most noteworthy tech trends the world is watching over include (1) the future of the metaverse, (2) the rise of blockchain technologies, and (3) the growing market capitalization of e-commerce.
Investing In The Future Of The Metaverse: Firstly, it's no secret that talks surrounding the Metaverse have bombarded everybody's news feeds, and with Microsoft joining the fray and Jim Cramer already providing investment advice, it might come a lot sooner than most would expect. However, many entrepreneurs fail to realize that the global adoption of the Metaverse will create a universal platform for businesses and digital products to compete, which will provide opportunities for small companies to rise.
Rise Of Blockchain Development & Integration: In addition to the Metaverse, the rise of blockchain development and integration is evident, and with cryptocurrencies reaching new all-time highs, this only goes to show what further innovation is in store down the road. Specifically, as decentralized financial technologies become increasingly cost-efficient and accessible for smaller businesses to integrate, it's not a stretch to expect a digital economic boom in the coming years.
Embracing The Growth Of Ecommerce: Lastly, while the downtime spent stuck at home due to Covid-19 health restrictions has caused many negative impacts for most industries and markets, it has also sped up the growth of e-commerce. And given the 1.7% increase in retail sales reported yesterday, consumer spending and economic activity are bouncing back just as much. As a result, once online shopping and deliveries become the norm for households, this will help small business startups become more competitive.
Think Forward And Incorporate Innovations Early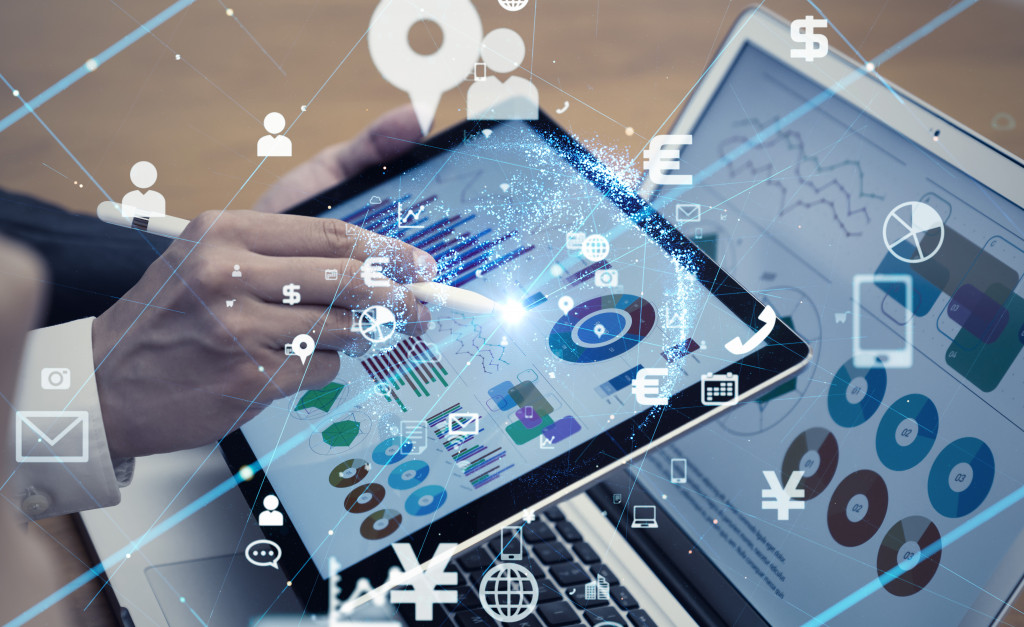 With the information provided above regarding emerging tech trends, it is clear that business owners and entrepreneurs must think forward and incorporate available innovations early to become part of the pioneering change that's shaping the business world. And while adopting new technologies may sound expensive on paper, there are numerous methods of modernization to get you started. Namely, we suggest (1) beginning digital migration of business processes and (2) analyzing current digital trends in your specific industry.
Begin Digital Migration Of Business Processes: Although we understand the concerns of digitalizing all of your business processes right now, we recommend starting with your finance systems and core operations first. You see, what matters most in today's business climate is staying on your toes, and if you can manage to modernize your main selling point and cash flows, you are already in the ballpark of following through with the next step.
Analyze Digital Trends And Adopt Necessary Changes: Besides keeping your finances and core operations at the ready for the next economic boom, it is in your best interests to analyze digital trends and adopt the necessary changes highlighted. For example, with Zillow's blunders and the housing market's current state, you might find that a real estate agent operating on digital platforms is more suitable for the new normal and future endeavors.
The Future Of Business Is Within Your Reach
In conclusion, we firmly believe that the future of business is already staring straight at us, and while we can take the time to gather our bearings, there's no better chance to grasp that opportunity than today. Likewise, there's no denying that these emerging tech trends and their impacts are still speculative at their best, so be vigilant and keep a close eye on what else the future has in store for small business owners.