There is no doubt that starting a shooting range can be profitable. A recent National Shooting Sports Foundation study found that the shooting sports industry is a $49.8 billion business and employs more than 640,000 people. Regarding profitability, ranges can expect an average of $1 million in revenue annually. It is clear that there is a demand for shooting ranges, but there are also many factors to consider before opening one.
Starting a business handling dangerous equipment will require much responsibility and paperwork. If mishandled, you could be held liable in the event of an accident. Here are some things to remember when starting a shooting range business.
Zoning and Permits
The first step is to check with your local zoning board and find out what permits or licenses are required to open a shooting range in your area. It is essential to do this early on to avoid any costly delays further down the road.
You will also need to have gun commercial liability insurance program in place before you open for business. This will protect you if someone is injured while using your facilities. Those requirements are in place to protect both you and your customers, making it necessary to adhere to them.
The next step is to find the perfect location for your shooting range. It should be easily accessible and visible from the road. The property should also have enough land to accommodate the size of the range you have in mind.
You will also need to ensure that there are no environmental hazards on the property that could risk your customers. These include lead contamination in the soil from years of target practice.
It will also be essential to have rules and regulations established to ensure the safety of your customers and employees. These should be prominently displayed and strictly enforced.
The rules every shooting range business must enforce include the following:
All firearms must get unloaded when not in use

No alcohol or drugs are allowed on the premises

Guests must wear eye and ear protection at all times

Only authorized personnel are permitted to handle firearms

Range safety officers must be present at all times
Following these simple guidelines can help create a safe and enjoyable environment for everyone.
Range Safety
Another essential consideration is range safety. You will need to have adequate safety measures in place to protect both your customers and your staff. This includes having a qualified range safety officer on the team and posting clear range rules.
You will also need to plan for what to do in the event of an accident. Having a first aid kit and knowing how to use it is essential. You should also be able to familiarize yourself with the local emergency services to get help as quickly as possible if there is an accident.
Building a safe shooting range will require you to work with a qualified contractor with experience building such facilities. You will also need to have the proper permits and licenses in place before beginning construction.
Safety features include the following:
Adequate ventilation to reduce lead exposure

Bullet traps to contain errant shots

Backstop berms to protect bystanders

Protective barriers between the firing line and spectators

Proper lighting for range safety officers to see shooters
Ensuring that your shooting range is safe should be your top priority. Following these guidelines can help create a safe environment for everyone involved.
Marketing Your Range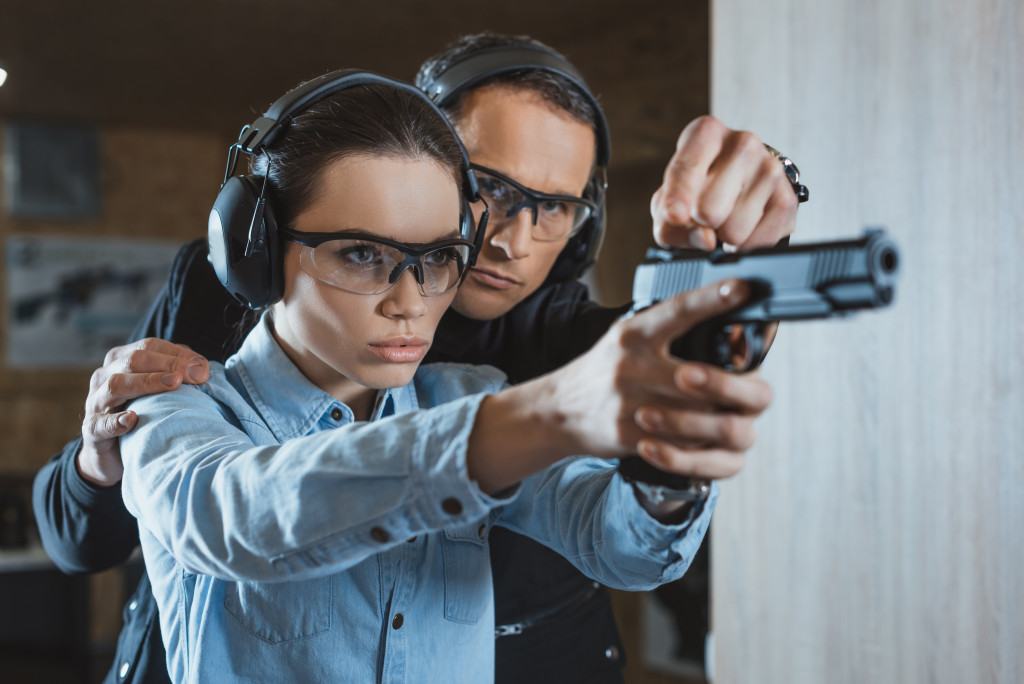 Once you have everything in place, it is time to start marketing your shooting range. This can be done through various channels, including online directories, social media, and print. You will need to create a website for your business and make sure it is listed in directories such as Google My Business.
You should also create social media accounts for your business and post regularly. You can use these platforms to interact with potential customers, answer their questions, and promote special deals or events.
It would help if you also considered running ads in local print publications. This is a great way to reach potential customers who may need to be more active online.
Stacking Up on Equipment
Last but not least, you will need to have the proper equipment on hand for your customers. This includes firearms, ammunition, safety gear, and targets. You will also need to keep your inventory well-stocked, so you don't have to worry about any service disruption.
It would help if you also considered offering rental services for those who do not own their firearms. This is a great way to attract new customers and generate additional revenue.
Inventory management on bullets and other materials will be critical to your success. You want to have enough items and use them.
Final Thoughts
Starting a shooting range business can extensively tap into the growing demand for such services. However, it is essential to do your homework and understand the requirements before you get started. By following these tips, you will be on your way to success.