Many states have lifted their restrictions on shopping and dining out. According to a report, 163,735 businesses closed down as of September 2020. As of October 2021, however, 85 percent of them have reopened. These include restaurants and retail shops. These businesses do not operate the same way they did before the pandemic, though. There are many changes influenced by the still-existing COVID-19 health crisis and by habits that consumers have developed in the pandemic.
Maintain Good Air Quality
Because the COVID-19 virus is airborne, it is a must to ensure good air quality and physical distancing. Many restaurants continue to offer take-out, drive-through, curbside pick-up, and food delivery since these are the safest. Many people miss the experience of dining in restaurants, though. For on-site dining, outdoor dining is best since people cannot be masked while eating. Restaurant staff must always be masked.
The Centers for Disease Control and Prevention (CDC) has air quality guidelines for businesses that apply to indoor dining in restaurants and to retail shops. In retail shops, people must follow CDC guidelines to stay masked indoors in public places, especially in areas with a high incidence of COVID-19.
Good ventilation is required indoors. Set the HVAC system to bring in and circulate as much outdoor air as possible. Hire a professional service company such as St Louis Clean Air to ensure that the heating, ventilation, and air conditioning (HVAC) system is regularly cleaned not only of dust but also of mold and mildew. The installation of UV lights and air purifiers with HEPA filters in the HVAC system will help remove viruses and bacteria from the air. Set the central air filtration to Minimum Efficiency Reporting Value (MERV) 13 or higher. If the area is large, install additional portable air purifiers with HEPA filters in strategic locations.
Remove or Reduce Physical Contact
Every establishment must implement a six-feet distance between people. In restaurants, arrange the tables six feet apart whether indoors or outdoors. In retail shops, position shelves far apart. Control the number of people allowed inside at any time to prevent crowding. Mark the floors to remind people where to stand, especially when queuing. Install physical divisions like glass or acrylic barriers in contact points such as payment and pick-up areas.
Eliminate or minimize the customers' contact with surfaces or objects. It is best to accept only online payment to avoid handling cash and for customers to avoid touching buttons to input their credit card information. Touch-free self-checkout systems are recommended. Wherever possible, doors must open and close touch-free. In restrooms, faucets and flushing systems must be touch-free.
Restaurants can provide hand sanitizers at every table. Retail shops can distribute these throughout the store at close intervals. Dispensers must have sensors to be touch-free.
In restaurants, require people to make a reservation and order in advance to minimize having to speak to the staff. This will also be beneficial for diners since it minimizes their waiting time. Hot food will be ready to serve to them when they arrive.
In effect, physical retail stores and restaurants are adopting the services provided by digital technology and e-commerce to make the customer experience both safer and more convenient.
Highlighting the On-Site Experience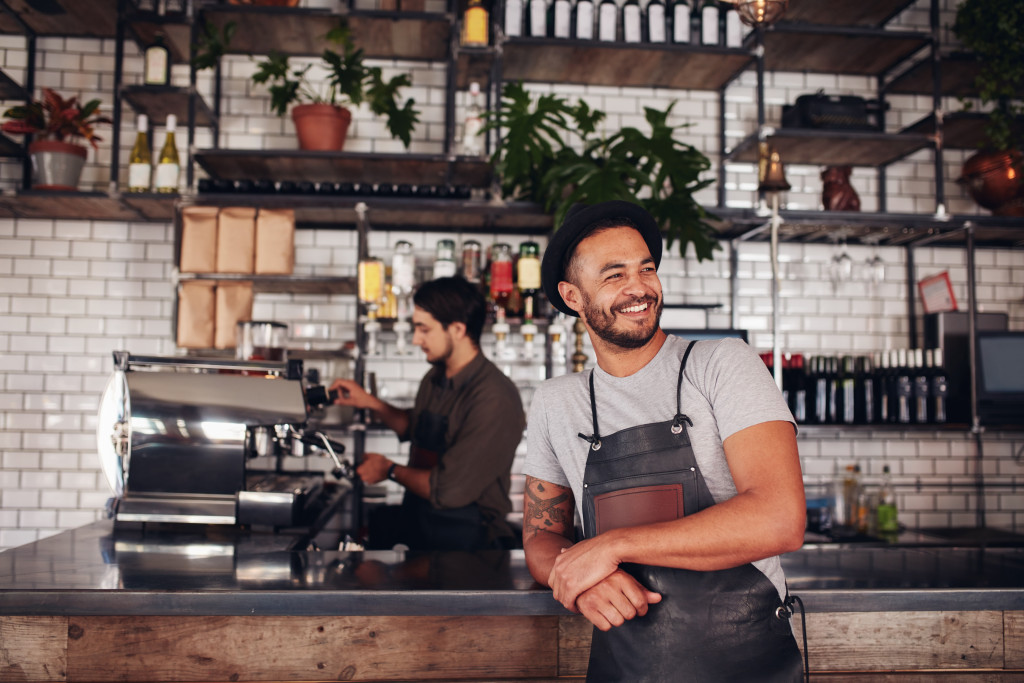 While consumers are likely to continue ordering food and goods for delivery, businesses must make the on-site experience attractive in a different way. Restaurants must offer an ambiance that is different from dining at home. Both restaurants and retail shops must provide several Instagram-worthy set-ups for selfies.
Consumers ordering clothes online cannot try them on. Only an on-site retail store can provide this experience. Clothing stores can enable a customer to set an appointment online and indicate the items of clothing and sizes to be tried on. At the appointed time, the customer is directed to a reserved dressing room where the items are already waiting. This arrangement minimizes the mingling of customers and eliminates the need to queue for a dressing room.
Dressing rooms must be Instagram-worthy. Stores can make each dressing room different so that a customer can book a different look for every appointment. Stores must thoroughly disinfect each dressing room after use, as well as items that have been tried on and not purchased.
Apart from trying on clothes, one of the things consumers cannot do online is try on makeup. Makeup brands can provide in-store enclosed booths for individual customers where they can experiment with individually packed testers for foundation, blush, eyeshadow, and lipstick, among other items. These must be pretty enough for selfies, as well. The booth must be totally disinfected between uses.
On-site restaurant dining and retail shopping may have returned but they are now very different from pre-pandemic times. The presence of COVID-19 has changed everything for good. Also, consumers' preferences and expectations have been altered by the digital experience. Businesses must adjust and even innovate further to be ahead of all these.