Creating an outdoor space is a great way to charm and draw customers.
Enhancing window appeal by replacing outdated windows and adding decorative accents can significantly impact.
Signage and awnings help brand your business and display directional information.
Revamping the parking lot or garage with bright colors and seal coats can make it look more inviting.
Upgrading doors and entryways with stylish new ones can create a more inviting atmosphere for visitors.
As a commercial building owner, you want to ensure that your property has maximum curb appeal. You're not alone; many businesses strive for the same goal of having an attractive and inviting exterior. Fortunately, there are various ways to transform the appearance of your building's exterior without breaking the bank. This article will explore five tips for transforming your commercial building's exterior to increase its aesthetic appeal and value.
1. Create an Outdoor Space
One way to add charm to your commercial building is by creating an outdoor space. Adding an outdoor space encourages people to linger, which can help to draw more customers and create an inviting atmosphere.
Here are some ways you can create an outdoor space:
Add Seating
Adding seating to your outdoor space is a great way to make it inviting and comfortable for customers. You can add benches, chairs, or even picnic tables, so people have plenty of options for lounging in the sun or taking a break from shopping. Make sure you place your furniture strategically. For example, by the entrance or near shaded areas to attract more visitors.
Incorporate Greenery
Nothing says "welcome" like an area with lush plants and flowers! Adding greenery to your outdoor space can create a pleasant atmosphere that encourages people to stay longer and enjoy themselves. For example, planters filled with vibrant flowers will draw attention while also providing a calming effect.
Create an Outdoor Cafe
An outdoor cafe area is another excellent way to draw customers and provide them with a place to relax, eat, and drink during their visit. If you already have a cafe inside your building, add some tables outside for customers who want to take advantage of the nice weather. It's also essential to ensure that all items are securely anchored so they don't blow away in the wind!
Add Lighting
To extend the life of your outdoor space into the evening hours, consider adding lighting. This can include solar-powered lights or string lights along walkways or around seating areas. Strategically placed lighting will help create ambiance and provide a safe environment for visitors. It can also add a unique aesthetic to your outdoor space that will draw people in!
2. Enhance Window Appeal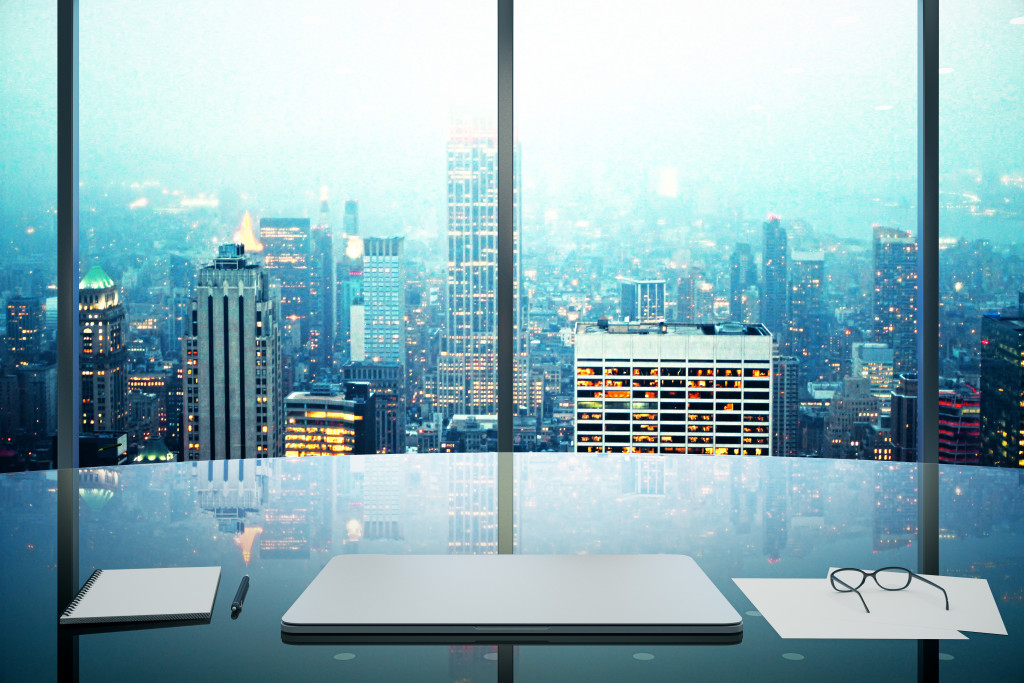 Attractive windows are a simple way to add charm and appeal to your commercial building's exterior. Replacing outdated windows with modern designs can make a big impact. You could even take it one step further by installing window shutters or decorating the windows with colorful paints or decals. Also, be sure to keep them clean and dust-free, so they can look their best at all times.
Alternatively, you could add decorative window accents to spruce up the look of your building's exterior. Window boxes are a great way to bring a touch of nature to the windows of your commercial building and can be easily installed. You could also try hanging planters from the window sills or adding stained glass for a more sophisticated look.
3. Make Use of Signage and Awnings
A great way to transform the look of your commercial building's exterior is to add signage and awnings. Signage is an especially effective tool for branding your building and displaying your business name and logo. Awnings protect from the sun and can also help to create an inviting look. They come in various colors, materials, and shapes, so you can easily find one that complements the design of your building's exterior.
No matter what type of business you have, signage and awnings can help to make it stand out from the crowd. While signs can be used for advertising your business or displaying a logo, they can also be used as directional signs to make navigating your property easier for visitors. Awnings are beneficial both aesthetically and functionally. In addition to providing shade, they can help shield your business from rain and snow.
4. Revamp Your Parking Space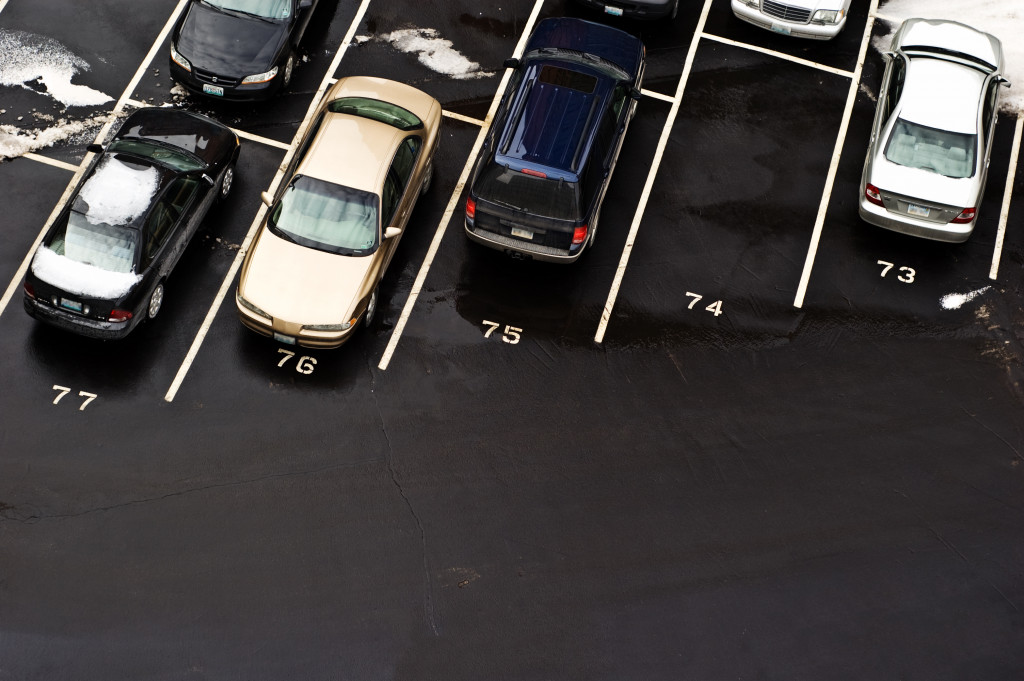 The appearance of your parking lot or garage is just as important as the look of the outside of your commercial building. Upgrading it with bright colors will make it more inviting for customers and visitors. You could even add decorative elements such as planters, flower beds, or sculptures to spruce up the area and give it a unique touch.
Another great way to revamp your parking space is to apply a high-quality driveway seal coat. This provides a protective layer that helps protect against the weather and wear and tear while also giving your parking space a fresh and clean look. A seal coat can also be customized with colors to help match the aesthetics of your commercial building, giving it a more polished and professional appearance.
5. Upgrading Doors and Entryways
The doors to your commercial building's exterior make an essential first impression, so they must be in good condition and aesthetically pleasing. Replacing outdated doors with stylish new ones can significantly improve the look of your building's entrance. Additionally, adding additional lighting fixtures or other decorative elements can create a more inviting atmosphere for visitors.
In Closing
Transforming your commercial building's exterior doesn't have to be difficult or expensive. By following the tips listed above, you can easily make updates that will dramatically increase its curb appeal and value. Whether you choose to create an outdoor space, enhance window appeal, or upgrade your entryways, you can be sure that your building's exterior will look attractive and inviting for customers and visitors alike.